Commercial Fencing Dunedin

Are you in the market for a new commercial fence? Look no further than Dunedin Fencing and Landscaping! This business provides quality fencing services that will meet all of your needs. With years of experience, they can help ensure your property is secure with a beautiful fence. Let's take a closer look at what makes this company stand out from its competitors.
Dunedin Fencing and Landscaping offers custom-made fences constructed with high-quality materials. They have access to an expansive selection of wood, metal, and vinyl options so that customers can choose whatever fits their style best without compromising security or durability. Their experienced team members are also able to provide expert advice regarding maintenance tips as well as recommendations for adding value through landscaping features such as trees, shrubs, flower beds, etc.
Not only do they make sure their products are up to standard but they also pride themselves on providing excellent customer service throughout the entire process – from consultation right through installation and aftercare. With competitive pricing and flexible payment plans available, there's no reason not to get started on transforming your outdoor space today with Dunedin Fencing and Landscaping!
Benefits Of Professional Installation
When it comes to commercial fencing, professional installation is essential. It ensures the fence will be built correctly and securely, providing a reliable and long-lasting barrier for your business. Professional installers have the knowledge and experience needed to construct fences that meet local building codes and safety standards.
They also understand how different materials interact and can identify potential problems in advance so they can be avoided or corrected quickly.
Plus, working with professionals saves you time because their expertise allows them to work efficiently while ensuring quality results. As a result, you don't have to worry about making mistakes when installing your own fence – leaving you free to focus on running your business instead. 
Types Of Materials Used
Having discussed the benefits of professional installation, let's look at some of the materials used for commercial fencing. Depending on your needs and budget, there are many options to choose from including wood, vinyl, aluminum, chain link, wrought iron or composite fencing.
Wood is one of the most popular choices due to its versatility; it can be stained in any colour and made into various shapes and sizes. It offers a traditional style that complements almost any property design. Vinyl fencing is becoming increasingly popular because it requires little maintenance and comes in a variety of colours and styles.
Aluminum is lightweight yet strong and durable making it ideal for high-traffic areas.
Chain link provides security while still allowing visibility through the fence so you can keep an eye on your property and visitors.
Wrought iron has a classic elegance with ornamental designs available, offering strength and durability. Composite fencing combines the best qualities of other materials such as low maintenance requirements like vinyl with natural beauty like wood bringing together form and function in one package.
This range of material options allows you to find something suitable for any purpose whether you need privacy, protection or simply aesthetics.
Design Considerations
When designing a commercial fencing project, there are several considerations to keep in mind.
* Aesthetics:
* Color and texture of the fence material should be complementary to the surrounding landscape.
* The size and design of the fence can improve or detract from the overall appearance.
* Security & Privacy:
* Height and construction materials used determine how secure the fence is.
* Materials can also provide different levels of privacy while allowing necessary visibility for security purposes..
Solutions For Security And Privacy
When it comes to fencing projects, security and privacy are two of the most important aspects. Dunedin Fencing and Landscaping understands this need and has a variety of solutions that can be tailored to fit any commercial space.
The team at Dunedin specializes in high-quality materials such as steel, wood, and vinyl for fences that offer both visual appeal and lasting protection. Steel is perfect for businesses looking for an industrial look or needing extra strength against intruders. Wood offers natural beauty with the added bonus of being eco-friendly while also providing excellent durability. Vinyl is a cost effective solution with minimal maintenance needs throughout its lifetime.
In addition to these material choices, they also provide a range of styles including traditional designs like picket fences, elegant wrought iron options, contemporary aluminum panels, or custom creations based on individual business requirements. No matter what type of fence you choose, Dunedin will ensure that your project complies with all local regulations and building codes.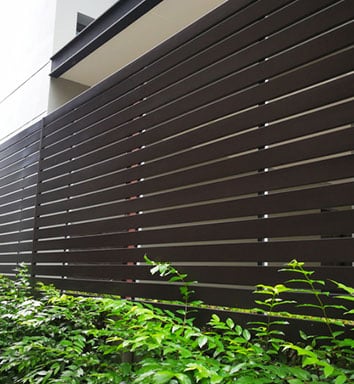 Regulations And Building Codes
When it comes to commercial fencing, Dunedin Fencing and Landscaping understands the importance of following all applicable regulations and building codes. We make sure that our installation is up to code before we even begin any job. Our team will always check for permits and zoning restrictions in order to ensure full compliance with local rules and regulations. 
contact us today!