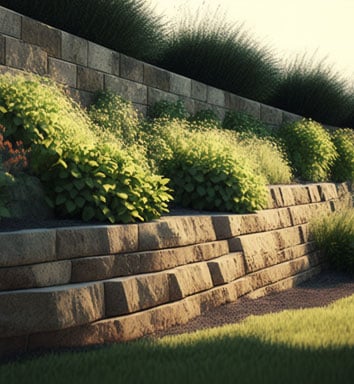 Dunedin Fencing and Landscaping provide an invaluable service to homeowners in need of retaining walls. Whether you're looking for a decorative feature or simply something to manage steep slopes, their experienced team can find the perfect solution for your needs. Dunedin's custom built structures are designed with durability, stability and aesthetic appeal in mind, ensuring that they last for years to come. Read on to learn more about why these experts should be your go-to choice when it comes to building retaining walls!
Retaining walls don't just add beauty and charm to any outdoor space; they also serve a functional purpose by keeping soil secure while allowing water drainage. And that's exactly what makes them such an important part of landscaping projects. No matter how large or small your project is, Dunedin Fencing and Landscaping have the experience and expertise needed to create the perfect walling system tailored specifically for you.
From timber sleepers to stone masonry blocks, each material used has been chosen carefully according to its strength, endurance and quality. With such attention paid to detail, you can rest assured that your retaining wall will be as strong as it is attractive – all without compromising on safety. So if you're looking for reliable help with constructing a safe yet stylish border around your outdoor area then look no further than Dunedin Fencing and Landscaping!
Benefits Of Retaining Walls
Retaining walls offer many benefits to your landscape. By creating a level surface, they can help prevent soil erosion and provide additional space for planting or building features like terraces or stairs. They also increase the aesthetic value of your property by adding texture, color, and dimension. Retaining walls also serve an important structural purpose – supporting the weight of soil behind them while helping manage water flow. In addition, retaining walls are often used as barriers between different areas of land, such as driveways and gardens. All these advantages make retaining walls a great choice when looking to enhance your outdoor space.
Design Options
Now that you're familiar with the benefits of retaining walls, let's explore some design options. There are many materials used to construct a retaining wall and here is a list of 4 popular ones:
1. Wood
2. Concrete blocks
3. Bricks
4. Natural stone
No matter which material you choose, they must be strong enough to withstand pressure from soil and water while providing stability for your garden or outdoor space. It's also important to consider how much weight will be placed on the wall when making your decision as this could affect its overall strength and integrity in the long run. Additionally, each material has its own advantages and disadvantages so it's best to research these before deciding what is right for you. With all this in mind, let's move onto discussing the materials used for construction…
Materials Used For Construction
Dunedin Fencing and Landscaping use a variety of materials to construct our retaining walls. We primarily use pressure-treated wood, concrete blocks, bricks and natural stones for the construction process. Pressure-treated wood is one of the most common methods used in building sturdy retaining walls that are strong enough to last decades with proper care and maintenance. Wood also provides a more aesthetically pleasing look than other materials. Concrete blocks provide strength and durability due to their massiveness, while brick can be laid out in various patterns or designs to create an attractive wall feature as well. Natural stone has been used for centuries when it comes to constructing landscape features such as pathways, patios, steps and retaining walls – its beauty speaks for itself!
These different types of materials all have unique strengths and weaknesses that should be taken into consideration before beginning any project involving a retaining wall. Knowing which material best suits your needs will help you choose the right option for lasting success. With these considerations made, we're now ready to move onto drainage considerations in our next section.
Drainage Considerations
When constructing a retaining wall, it is important to consider the drainage of the area. Poor drainage can lead to foundation problems down the road and put unnecessary strain on your retaining wall. This means that any water build-up should be redirected away from the structure itself. To do this, slopes should be built into either side of the wall to allow for runoff. Additionally, proper gutters and drains should be installed in order to further protect against flooding or pooling of water around the base of the wall.
Taking these steps will ensure that your retaining wall stands strong and continues looking great year after year. And with good drainage considerations taken care of, you're ready to move onto discussing installation process overview – an essential step before beginning construction!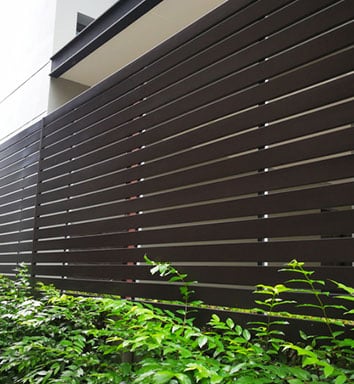 Installation Process Overview
Dunedin Fencing and Landscaping has been installing retaining walls for over 10 years. We provide a professional installation service, ensuring that your wall will be built correctly to maintain its structural integrity. Our team of experienced installers follow industry best practice guidelines when constructing any size or type of retaining wall.
We have the expertise to tailor our solutions to fit any site conditions, from flat surfaces to sloping sites with steep grades. The first step in our process is an on-site consultation so that we can discuss all options with you and create a plan tailored just for you.
Once the plan is approved, our crew begins setting up the materials needed for construction, such as posts, blocks, geogrid fabric and other hardware. After completion of the setup phase, our team installs the components according to your agreed upon design specifications before backfilling and finishing off with topsoil or mulch if desired. With Dunedin Fencing & Landscaping's help, you can rest assured knowing that your retaining wall was installed by trained professionals using only quality materials.
Professional Fencing & Decking Services
Dunedin Fencing and Landscaping offers experienced fencing and decking services that add convenience, security, value, and beauty to any home. Our professional installations are tailored to fit your specific needs and preferences. We use top quality materials combined with expert craftsmanship for a long-lasting result you can depend on.
Not only do we provide the highest level of customer service but our team also follows all safety protocols while working on your project in order to ensure complete satisfaction. With our reliable solutions, you can be sure that your outdoor area will look its best for years to come.
Our professionals understand the importance of getting the job done right the first time so they take great care in their workmanship whether it's building or repairing a fence or designing and installing a new patio or deck.
The end result is always an attractive outdoor space that provides many benefits including increased privacy, improved curb appeal, greater security, more usable outdoor living space, as well as enhanced property value. 
Advantages Of Expert Installations
Retaining walls by Dunedin Fencing and Landscaping offer many advantages. Firstly, they increase the safety of your property.
These walls are designed to be sturdy, durable and built to last; you can count on them for years to come without worrying about collapse or damage from water or erosion. Secondly, they add a touch of beauty and sophistication to any outdoor space.
Our retaining walls come in a variety of materials, styles and colors so no matter what look you're going for, we have the right fit for you.
Finally, our experienced technicians will install your wall quickly and correctly – ensuring it looks great while also doing its job properly. We understand how important these structures are which is why we take extra care when installing them. When done right, you can rest assured that your retaining wall will protect your home or business for years to come!
contact us today!