Residential Fencing Dunedin

Welcome to Dunedin Fencing and Landscaping! We specialise in making your outdoor space look beautiful while providing safety and security. Whether you're looking for a fence or landscape project, we have the expertise and craftsmanship to ensure your vision is realised.
With years of experience, our team has completed countless projects with precision and care, delivering results continuously.
Are you ready to take your backyard from drab to fab? If yes, then you've come to the right place. Here at Dunedin Fencing and Landscaping, we treat each job as our own. Our attention to detail makes us stand out from the crowd – no matter how big or small the project may be. Plus, we offer competitive prices to get more bang for your buck without compromising quality.
Ready to start transforming your outdoor space into something special? Get in touch today, and let's bring your dream backyard to life together!
Our Services:
Dunedin Fencing and Landscaping offers a wide range of residential fencing services. We provide quality workmanship with durable materials to protect your property well. Our professional team has years of experience in the industry, so you can trust that you'll be getting top-notch service from us every time. From wood fences to chain link fencing and more, we have it all covered. We are also adept at building custom designs for special projects or creating unique spaces around your home. We take pride in our attention to detail and strive to deliver an exceptional job each time. With our knowledge and expertise, we can bring your vision for your fence project to life.
No matter what style or size of fence you're looking for, Dunedin Fencing and Landscaping will go out of their way to make sure it meets your needs while still fitting within your budget. Beyond simply providing the material and installation, we offer ongoing maintenance plans as well as repairs whenever needed. 
Types Of Fencing
Dunedin Fencing and Landscaping offers a variety of fencing options to suit every need. From classic wooden fences to decorative iron ones, there is something for everyone! Whether you're looking for privacy, security, or just an attractive accent to your outdoor area, our experts can help you find the perfect fence.
Here are five types of fencing that Dunedin Fencing and Landscaping specializes in:
– Wood Fences: Wooden fences are popular due to their natural beauty and durability. We offer different styles such as picket, post & rail, board on board and more!
– Vinyl Fences: Our vinyl fences are low maintenance and come in several colors and textures. They also last much longer than wood fences without requiring staining or painting.
– Aluminum Fences: Aluminum fences are a great way to add style with minimal upkeep. These stylish designs come in various heights and sizes so you can create the look you want.
– Chain Link Fences: Chain link fencing provides security while still allowing light into your yard. It comes in galvanized steel or coated aluminum making it strong yet aesthetically pleasing.
– Iron/Wrought Iron Fences: Wrought iron fences bring timeless elegance to any property with ornamental designs that will never go out of style. Our expert team can customize these traditional pieces according to your preferences.
By offering quality materials and craftsmanship, we guarantee that our customers get long lasting results they'll be proud of for years to come. With all these choices available, finding the right fence solution has never been easier! With this selection of products at hand.
Benefits Of Fencing
Fencing is a great way to add value and security to any residential property. It can provide privacy, peace of mind, and keep children or pets safe in the yard. Fencing also adds aesthetic appeal to your home, making it look more attractive while enhancing its curb appeal. In addition, fencing provides an extra layer of protection against intruders and animals; with Dunedin Fencing & Landscaping's high-quality materials and expert installation, you can be sure that your fence will stand up to whatever comes its way. With these benefits combined, there are numerous reasons why having a well constructed fence is beneficial for homeowners.
In addition to providing safety and additional security measures, fences require very little maintenance once installed. Regular inspections will help ensure that all parts are functioning properly so that no repairs are necessary down the line. This allows homeowners to enjoy their fence without worrying about costly repairs or replacements over time. With Dunedin Fencing & Landscaping's experienced team handling the installation process from start to finish, customers don't have to worry about dealing with unexpected issues later on as they offer quality assurance guarantees on all projects completed by them.
Maintenance And Repairs
At Dunedin Fencing and Landscaping, we understand that maintaining the condition of your residential fencing is important. We offer a variety of services to keep your fence looking great for years to come. Whether you need repairs after storm damage or routine maintenance to extend the life of your fence, our team has you covered.
We can quickly identify any structural issues and make necessary repairs in no time. Our experienced technicians work with precision and attention to detail so that all repair jobs are done correctly and efficiently. We use only high-grade materials when it comes to repairing fences, ensuring quality results every time. With our help, you can rest easy knowing your fence will stay secure and look beautiful for many years ahead.
Our commitment to providing superior service extends beyond just installation and repairs – we also strive to provide our customers with expert advice on how best to care for their fences.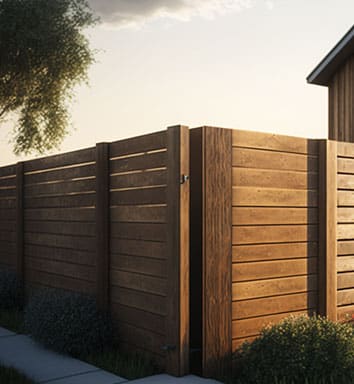 Expertise And Experience
Dunedin Fencing and Landscaping has been in the residential fencing business for over 20 years. Our team of experienced professionals is dedicated to providing quality services to our customers, ensuring that their needs are met with precision and satisfaction. We draw on decades of industry knowledge when crafting custom designs tailored to fit each client's unique property and lifestyle.
From intricate wrought iron works to simple chain link fences, we have something for everyone. All materials used are high-grade and built from scratch in our shop or delivered ready-made as requested by the customer. We pay close attention to detail throughout the construction process so that every fence looks beautiful upon completion. With Dunedin Fencing and Landscaping, you can trust us to get your job done right!
Advantages Of Working With Dunedin Fencing And Landscaping
Dunedin Fencing and Landscaping offers a wide range of advantages when it comes to residential fencing. Firstly, they are experienced in the field with more than 15 years' experience as professional installers. This ensures that all projects are completed on time and to a high standard every single time. Secondly, their team is highly skilled with expertise in many types of materials such as wood, vinyl, aluminum, chain link and wrought iron.
They also have an extensive selection of colors and designs to choose from so you can create your perfect fence at an affordable price. Thirdly, they provide excellent customer service including free quotes and ongoing maintenance advice if needed. Finally, all products used by Dunedin Fencing and Landscaping are durable and backed up with a warranty for added peace of mind. As you can see, working with them has numerous benefits for your residential fencing needs.
contact us today!