Decks By Dunedin Fencing and Landscaping are the experts when it comes to creating beautiful outdoor living spaces. With their expansive knowledge on fencing, decks, landscaping and more, they can turn your backyard into a place of beauty and relaxation. They offer custom designed solutions that fit any budget. Whether you're looking for something simple or detailed, this team will work with you every step of the way to bring your vision to life.
Do you want an outdoor space that reflects your personality? Are you ready to make memories in a unique setting? Then look no further than Decks By Dunedin Fencing and Landscaping! This family-run business has been providing excellent service since 2008, making them one of the most reliable companies around. Their commitment to quality craftsmanship is evident in each project they take on – from start to finish, they ensure top-notch results that last year after year.
With competitive prices and friendly customer service, Decks By Dunedin Fencing and Landscaping make transforming your backyard into an oasis easy and fun! From planning through installation, these professionals provide personalized care so you can get exactly what you need without any hassle. Get ready to enjoy the outdoors like never before; contact Decks By Dunedin today for all your decking needs!
Overview Of Services
Dunedin Fencing and Landscaping offers a wide range of services to help you create the outdoor living space of your dreams. We offer custom-built fences, decks, patios, retaining walls and more – all designed with quality materials and built by expert craftsmen. Our team is dedicated to listening to our customers' needs and providing them with the best possible service.
We strive to provide unique designs that will stand out from the crowd while creating an inviting atmosphere in any outdoor setting. With years of experience in the industry, we are confident that we can construct something that meets both your style preferences as well as budget constraints. Let us show you what we can do!
Design Options
At Dunedin Fencing and Landscaping, we offer a wide range of design options to fit your outdoor space needs. Our team provides professional installation services for every job – big or small.
Some of the features you can choose from include:
* Customized fencing in any size or shape
* Decorative accents such as arbors, trellises, and gates
* A variety of materials including wood, vinyl, aluminum, and more
We understand that everyone has unique tastes when it comes to design preferences. That's why our experienced staff is here to provide advice on which designs are most suitable for your project. With a combination of quality products and expert craftsmanship, we guarantee satisfaction with all projects completed by us. And now let's look at how to keep up with maintenance and care for these installations.
Maintenance And Care
Once you've chosen the design option for your deck, it's important to pay attention to its maintenance and care. It's essential that decks are kept free from dirt, debris, and algae as these can cause damage over time. To do this, ensure that the surface of the deck is regularly washed with a mild detergent solution or pressure hose. Additionally, it is recommended that any exposed wood surfaces be treated with an appropriate sealant every two years to protect against water infiltration and discoloration.
Regularly checking for signs of wear such as splitting boards, loose screws/nails, and peeling paint should also become part of routine maintenance to catch problems early on before they become bigger issues. With proper upkeep, a well-made wooden deck will last for many years. Now let's move onto customisation options for decks – adding further style and functionality to a backyard space!
Customisation Of Decks
At Dunedin Fencing and Landscaping, we provide customised decks to suit your individual needs. We understand that everyone has different wants and needs when it comes to outdoor living spaces, so our team will work with you on the design of the decking area in order to ensure that you have a unique space that reflects your personal style. From the materials used for construction through to the size and shape of the deck, every aspect can be tailored to fit perfectly into your garden or patio setting.
Our experienced staff is trained to help guide you through all aspects of creating a beautiful and functional outdoor space – from choosing colours and textures, as well as selecting screens or railings if desired. With our expertise at hand, you are sure to end up with an attractive yet practical addition to your home!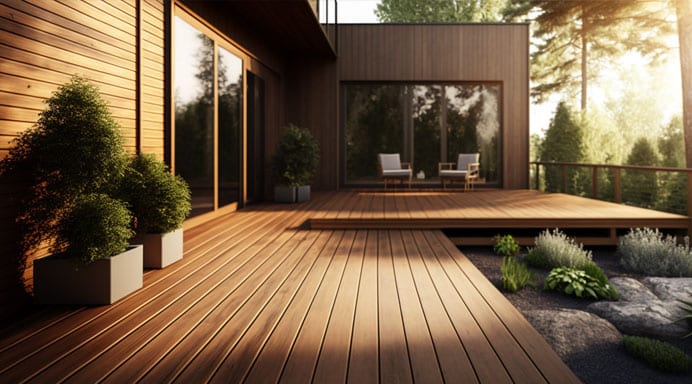 Benefits Of Installing Decks
Installing a deck can have numerous benefits for homeowners. It's an attractive addition that adds visual appeal to any property and provides extra space for outdoor activities, furniture, and entertainment options. Decks also increase the value of your home by providing increased living space since they are often considered part of the house.
As well as improving upon aesthetic values, decks provide an efficient way to enjoy fresh air in comfort while still being able to stay connected with friends and family outdoors without having to battle bugs or harsh weather conditions. With a quality installation from Dunedin Fencing and Landscaping, you can ensure that your deck will be built properly so it lasts through many years of use.
Advantages Of Working With Dunedin Fencing
When it comes to decks, Dunedin Fencing and Landscaping offers customers a number of advantages. For one thing, they use only the highest quality materials for their projects, ensuring that your deck will stand up to time and weather conditions. Additionally, all work is done in accordance with local building codes so you can be sure that any structure built by them meets safety requirements.
The team at Dunedin also works hard to make sure customer satisfaction is always top priority. They take great care when designing each project and are willing to go above and beyond to ensure the results meet or exceed expectations. Their friendly staff takes pride in communicating with clients throughout the entire process – from initial consultation through installation and follow-up service after completion of the job. With this kind of dedication to customer service, you'll never have to worry about your deck being anything less than perfect!
contact us today!